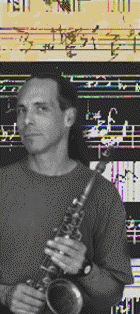 patrick brennan composes music for improvisers and plays the alto saxophone. With his ensemble, SONIC OPENINGS UNDER PRESSURE, he navigates the role of improvising composer/performer in a manner similarly explored by Ellington/Monk/Coleman/Mingus/Threadgill, etc. Brennan invents diverse, multileveled soundscapes, often polyrhythmic, panharmonic and extended in form. The human, and dramatic, unpredictability of distinct individuals improvising together form an essential component of this music, and Brennan's compositions charge and calibrate the creative tensions of these moments.
"I've always thought about music in terms of its overall impact, how sound functions as an image, how people interact with all this in terms of imagination, emotion, dialogue, participation. So, it's natural that I would think about any music in orchestral terms, and that I would be as interested in how the ensemble is speaking as in whatever solo issues might be at hand. Actually it's the ensemble, and how composition may coordinate that activity, that gives any moment's solo its pallette." - pb
"BRENNAN KNOWS HIS WAY AROUND RHYTHMS, HIS COMPOSITIONS DRAW ON JAZZ, NOISE, PLUS WHAT'S IN BETWEEN" -village voice
Born in 1954, Brennan was strongly influenced by the energetic rhythmic complexity of the late 60's vanguard of his native Detroit. . Moving to New York City in 1975, he began freelancing as both a bassist and saxophonist. During this decade, wherein many musicians were able to independently develop and expose their own work in the then underutilzed lofts around the city, Brennan established his own as a site for jam sessions, composer's workshops and performances. In this context, and in the creative opportunities and tests of the pluralistic New York environment, Brennan began developing a distinct music of his own. In 1979, he formed the first versions of SONIC OPENINGS UNDER PRESSURE, which later was to become one of the first ensembles to frequent the early Knitting Factory and other venues associated with the "Downtown Scene."
"It was interesting how the music evolved. Originally, I thought the way to go was to play "free," but, at least with the musicians I got to work with, I wasn't getting the sound I was intuiting that way. So, I learned from them, wrote more, and experimented, writing things that seemed more conventional, but were pointing the textures and improvisational possibilities somewhere else. I was trying to stretch the musical connective tissue, and to push myself as an improviser as well. After a while, the music developed a life of its own, and, with that, I took on a responsibility to where it was going."
Brennan's 1980's septet and sextet recordings with this group were compared in scope and ambition with the music of Threadgill, Mingus, Murray and the AACM in such publications as Downbeat, Cadence, Musician, Coda and others, while his saxophone work has invited associations with that of Ornette Coleman, Jackie McLean, Roscoe Mitchell and Oliver Lake.
"BRENNAN'S VIVID, RIGHT-ANGLED ALTO STYLE SUMMONS UP ROSCOE MITCHELL AND JACKIE McLEAN, AND HIS COLORFUL WRITING FOR SEXTET BOASTS A NODDING ACQUAINTANCE WITH MINGUS AND THE AACM." -Musician
"It seems to that what has come to be called Jazz is more an attitude toward living, and toward sound, than it is any particular stylization of sound. I mean, we all learn from the masters, and from everybody else, but to me, it's a sign of disrespect and ingratitude to not go off and make something of your own from that. And, I don't think of this as a condition that's going to change, that suddenly what will truly matter is to not go beyond a designated dead style, which is a style that's defined principally by what it is not. That's niether growth nor maturation, or tradition, but a kind of fashionable decadence"
Brennan continued to refine his musical concepts throughout most of the 90's and recorded, in a trio version of SONIC OPENINGS UNDER PRESSURE, seven original compositions that emphasize a trio's capacity to collectively improvise together as an orchestral vehicle in relationship with extended compositional forms on the CD which way what.
"WHAT'S STRIKING ABOUT THIS ALBUM IS HOW TIGHT IT IS, WITH A STOP-START WRITING STYLE THAT PUSHES IT ALONG FROM FRAGMENT TO CLEARLY-DEFINED FRAGMENT. ALL THIS WITHOUT LOSING IMPROVISATORY GRACE." -the Wire
"THERE'S LITTLE TO SAY ABOUT THIS ALBUM OTHER THAN TO RECOMMEND IT VERY HIGHLY. THIS IS A LOVELY ALBUM. BRENNAN'S AN ABSTRACT EXPRESSIONIST WITH CHOPS. HE'S UTTERLY COHERENT IN HIS FREE ASSOCIATIVE IMPROVISATIONS, AND HE IMBUES HIS MUSIC WITH A GREAT DEAL OF TIMBRAL AND RHYTHMIC VARIETY. HIS COMPOSITIONS ARE FRESH AND QUITE ORIGINAL, PROVIDING FOCUS FOR THE LOOSELY SWINGING IMPROVISATIONS. PATRICK BRENNAN'S A FIRST-CLASS SAXOPHONIST AND COMPOSER, AND HIS TRIO IS ONE OF THE MOST INTERESTING I'VE HEARD IN SOME TIME." -Cadence
"There's, to me, an important difference between tune writing and composition: a composition has to account for the whole picture, nothing get's taken for granted. I've noticed that what I keep coming back to is the rhythm; that's where most of my ideas tend to come from. I don't like to take a groove for granted, I'd rather compose at that level; and I like the potentials for tension there. I compose, maybe even more with the rhythm section in mind than anything else. The CJQ, back in Detroit, were on to that in a big way, and Steve Coleman has been very serious about it too. There's a lot to find in there that hasn't yet been developed. Even such a non-swinging composer like John Cage thought of rhythm as the most fundamental and inclusive element of music."
Brennan also pursued the challenges of solo saxophone performances while in Europe which lead to the CIMP CD, saunters, walks, ambles, recorded in duo with bassist/composer Lisle Ellis. Saunters is a combination of dialogues with the music of Monk, R. Mitchell, O. Coleman & Coltrane alongside impromtu duets with Ellis.
And skips and leaps and broods. But what really distinguishes this duet session isn't legs as much as ears. Listeners interested in the art of subtlety should run, sprint, dash to get this human and humane date.
John Chacona in signal to noise
However, the best aspect of Brennan's European experience turned out to be Africa, and a relationship developed with the Gnawa musicians of Morocco. He performed with the Ganga of Agadir in the First Festival of Gnawa Culture in Essaouira, Morocco in 1998 and developed the Sudani Project with Essaouira Gnawi M'allim Najib Sudani and American drummer Nirankar Khalsa. Their new CD, Sudani, is a recording of spontaneous encounters crossing Jazz, Gnawa, and Blues tendencies of the music.
Brennan is currently in the process of composing music for a new recording of SONIC OPENINGS UNDER PRESSURE in a quartet format using two trap drummers and bass, and is preparing a quartet project called Remonkability.